Creating Immersive experiences to help educate & entertain consumers and set a mark in a variety of industries. VR has got ideas into action and also to explore the unexplored.
HTC Vive | Oculus Rift | Oculus quest | Hololense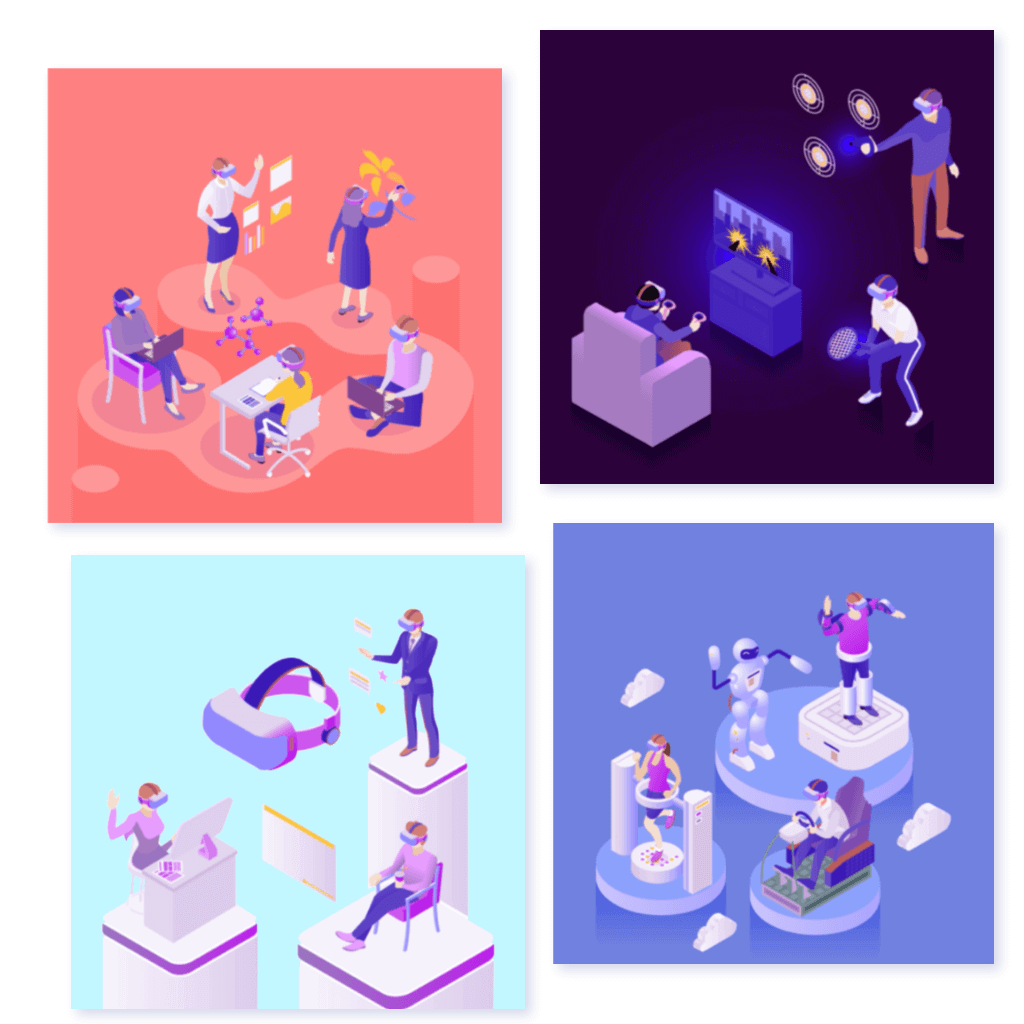 We have got it all covered!
VR Vehicle Inspection System
Automobile Industry has come a long way with the emerging technologies. Virtual reality being one, has made things easier than ever when it comes to training individuals in this industry.
VR vehicle test lane is a training platform where personnel can be trained virtually on various vehicle testing equipment and procedures to carry out the same. The voice-overs and textual guidelines in the virtual world vehicle test lane takes one through a detailed training process. The virtual system reduces real-world downtime and vehicle wear & tear caused during training.
VR Fire Safety application
Education and educators are always captivated with the trending technologies. VR Fire Safety Application is developed for one such purpose, to educate and train firefighters.
VR Fire Safety Application is appropriate in situations where one has to be trained to tackle the adversities of fire accidents efficiently without any harm. This virtual training platform serves its purpose on training the individuals to perform better on site.
VR River Management Application
Environment and its awareness has to be of paramount interest in every individual. This is made possible by Virtual Reality, by concentrating on minute details that cause harm to nature. Our approach of River Management covers it all.
VR River Management Application is a detailed preview of the adversities caused by human actions to the rich heritage of the flora and fauna. Composition of the land and water ecosystem, waste segregation criterias and a closer look at the key stakeholders of environmental pollution are visually rendered.
Virtual Banking in VR revolutionizes the way you manage your finances. It is a futuristic financial experience that seamlessly blends digital banking with the immersive world of the Metaverse
This innovative platform lets users perform banking tasks seamlessly, from creating accounts and changing PINs to requesting assistance for any banking-related matters. With the convenience of VR, you can access your personal banking services and connect with a manager in a virtual space, making banking interactions more accessible and interactive than ever before. It's a revolutionary way to interact with your money, offering convenience, security, and a glimpse into the future of banking within the Metaverse.
Nature is God's bounty which we never fell short of.  we have recreated one such creation which is as significant as it sounds. The Beach VR that takes us away from the hustle and bustle.
Witness the splendid sunrise, the bleached afternoons and the magnificent and colourful night sky virtually from wherever you are resting. VR Beach takes you through an isolated beach, where one can sink into the calm and relaxing sea waves just in a few seconds. It also makes it possible to access your own beach space with no disturbances of the people around.
To set up a working area and cleanliness of the space is of prime importance. Trained to perform this is made possible by VR.
A VR training simulation to maintain a neat and clean ambience in the corporate sector. Setting up of the office, cleaning and dusting are simulated.
The Virtual Art Gallery in VR transports art enthusiasts to a digital realm where they can appreciate and engage with breathtaking artworks from around the world. With stunningly realistic visuals and immersive technology, users can explore a curated collection of paintings, sculptures, and other artistic creations, with the ambiance of the art gallery all from the comfort of their VR headset.
They can observe individual art pieces closely and in more detail than they ever could. It's an extraordinary journey into the world of art, providing a unique and interactive gallery experience like no other. .
Our Virtual Reality Works
VR Vehicle Inspection is a comprehensive training solution that immerses users in the world of automotive inspection. Through immersive VR simulations, users are trained in various inspection procedures, including emission testing, headlight testing (in both auto and manual modes), horn sound testing, brake testing, side slip testing, suspension testing, and wheel alignment. It's an interactive and educational platform designed to enhance the skills and knowledge required for thorough vehicle inspections, ensuring safety and compliance in the automotive industry.
Bocce VR brings the classic Italian lawn game of bocce to the virtual world. In this immersive experience, players can enjoy a realistic and fun-filled virtual bocce game, complete with accurate physics and multiplayer options. It's a digital recreation of the beloved pastime that allows you to roll, toss, and strategize your way to victory while enjoying the social aspect of the game, all from within your VR headset.
Nature VR is a captivating journey that transports users to some of the most breathtaking natural environments on our planet. Through immersive virtual reality experiences, users can explore lush forests, majestic mountains, serene Rivers, and other stunning landscapes with amazing soundscapes. It's an opportunity to connect with nature, witness its beauty up close, and gain a deeper appreciation for the world's natural wonders without leaving the comfort of your own space. Nature VR is an escape into the great outdoors from the convenience of your VR headset.
DiggerSim – Excavator & Heavy Equipment Simulator VR is an immersive gaming experience that allows players to step into the operator's seat of heavy machinery. With realistic VR controls, you can excavate, dig, and maneuver heavy equipment like never before. Users can take control of excavators and other heavy equipment, offering a realistic simulation of construction and excavation tasks. It's a hands-on and educational way to learn about heavy machinery operations while having fun in a virtual construction site.
Download the game for free at https://dreamsoftin.itch.io/diggersim and embark on a thrilling construction adventure in the virtual world.
The Paint in VR app revolutionizes interior design by enabling users to virtually transform their living spaces. With this immersive tool, users can easily change the colors of walls, floor tiles, and more, allowing them to visualize and experiment with different design ideas in a stunningly realistic virtual environment. It's the perfect way to see how a new color scheme will look before making any real-world changes.
A multiplayer planetarium VR experience built for Quest 2 transports users into a stunning virtual universe where they can explore the wonders of outer space. With immersive visuals and interactive features, it offers a captivating journey through the cosmos, allowing users to fly through the cosmos to learn about celestial bodies, stars, constellations, and astronomical phenomena while feeling like they're among the stars themselves.
HomeVR is your personal interior design playground in virtual reality. With this immersive application, users have the power to transform their living spaces at their fingertips. From rearranging furniture to experimenting with various light fixtures, wall colors, and floor tiles, HomeVR offers an interactive and realistic environment to visualize and refine your dream home decor. It's the perfect tool to see your design ideas come to life before making any real-world changes.
Virtual Reality Combat Training: Train for combat in a realistic virtual environment.
VR Baby's Growth Showcase offers expectant parents an incredible journey through the stages of pregnancy, from Week 1 to Week 40. This immersive experience presents a detailed and interactive model for each week, allowing users to witness the remarkable development of their unborn baby. It's a unique and educational way to track the growth and changes that occur during pregnancy in a visually stunning virtual display.
The VR Architecture Inspection Demo is a virtual reality showcase that allows users to explore architectural designs with a detailed and immersive experience. Users can navigate and inspect architectural models, providing a realistic and interactive platform for architects, designers, and clients to visualize and evaluate construction plans before they become reality. It's a cutting-edge tool for enhancing design communication and decision-making in the architecture and construction industry.
IronMan VR for Oculus lets users step into the shoes of the iconic superhero. With this immersive experience, you can soar through the city as Iron Man, unleashing your powers and taking on thrilling adventures in the skies.
Beau Soleil – 360 VR Video Player App is a dynamic and user-friendly platform designed to provide an immersive experience for viewing 360-degree virtual reality videos. It allows users to explore captivating panoramic content, offering an interactive and visually engaging way to discover the world through the lens of 360-degree video technology.