Technology that overlays information and virtual objects on real-world scenes in real-time
. A combination of real and virtual worlds, real-time interaction, and accurate 3D registration of virtual and real objects.
Hololens | Smart Devices| ARKit| ARCore | Vuforia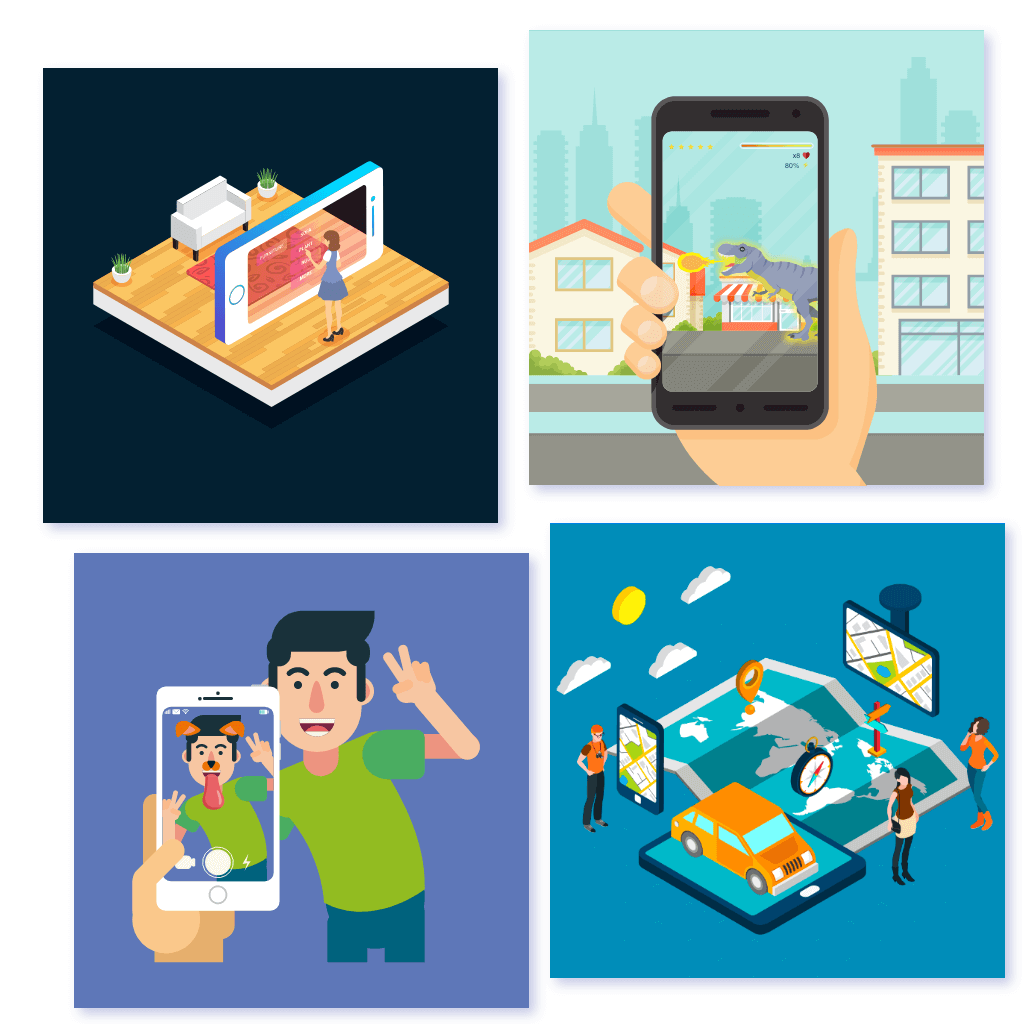 We have got it all covered!
AR Car Inspection application
An automobile showroom approached us with a requirement to develop an app that would modify an extensive range of interior designs to the cars manufactured. And we came up with CARVAR, an Augmented Reality app that best fits their requirement.
CARVAR, an Augmented Reality App, renders a 3D view of the car and also its interior fabrication. With this app, customizing the interior of your dream car is no longer a tedious task. The polishing that your car needs, that elegant look of it is all made simple with this app.
Education is experienced in a different aspect with the introduction of Augmented Reality. The objects and the figures are better understood by Augmented Reality than just gazing at them. We have developed one such educational material, Space book.
Space book, an Augmented reality enabled book provides a virtual view of the solar system, with all the planets revolving around the sun at their own pace. The book also imparts knowledge about the planets and the stars. Inshort, an easy "SPACE".
Localization and Measurements
3D Localization Application
Augmented Reality is known for its accuracy in measurements. This ignited us to come up with an application based on measurement.
3D Localization Application provides an accurate value of the surface measurements. All The values are displayed on the screen.
Augmented Reality has gained its scope in Games as well. This makes the players engrossed in the visuals and the game play.
AR Car Parking Game, a game that has a car to be parked on the parking lot. A game play that one gets moved by.
Entertainment is doubled-up with the touch of Augmented Reality. AR makes it feel lively to interact than the traditional approach.
Fireworks AR Playground is an interactive and fun-based fireworks bursting app. The primary feature of this app is to bring in the entertainment to the early Age group where the bursting of real firecrackers is not allowed. Users can burst as many virtual crackers possible in the real world. App also allows the user to save their experience and share it with others. Drawing mode is another feature of the AR Fireworks App, it lets the user draw colorful mandalas on the surface.
Augmented Reality has bagged a place in branding and marketing. Branding in a way different from the rest makes the product stand out from the crowd.
AR Packaging is one such example. The Logo speaks much about the product and the product.
Augmented Reality Face Filters
Augmented Reality face filters are in trend and an application of Flutter and Unity as well.
A flutter application dedicated only to cater to a wide range of AR spectacles is much-anticipated by the people around. So our passionate programmers spent their time developing this application to give the best of their imaginative and technical skills.
Our Augmented Reality Works